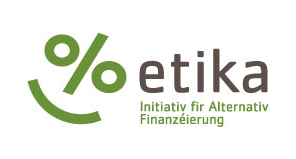 As a non-profit organisation, ETIKA's purpose is to promote ethical financing and to come up with new ways of developing ethical business.
ETIKA, in collaboration with the Banque et Caisse d'Epargne de l'Etat, Luxembourg (Spuerkeess) offers you Alternative Savings which enables the saver to be aware of the destination of these funds.
As a result of the solidarity of the holders of an ethical savings account, who give up part of the financial return, the accumulated savings deposit forms the financial base for granting credit.
The projects are selected jointly by ETIKA and BCEE. ETIKA considering the projects in accordance with ecological and social criteria, Spuerkeess studying them for their commercial viability.
Watch short video clips on some of the promoted projects.
For further details please contact www.etika.lu
ETIKA
Initiativ fir Alternativ Finanzéierung
136-138 rue Adolphe Fischer
L-1521 Luxembourg
Tel/Fax : +352 400 427-62